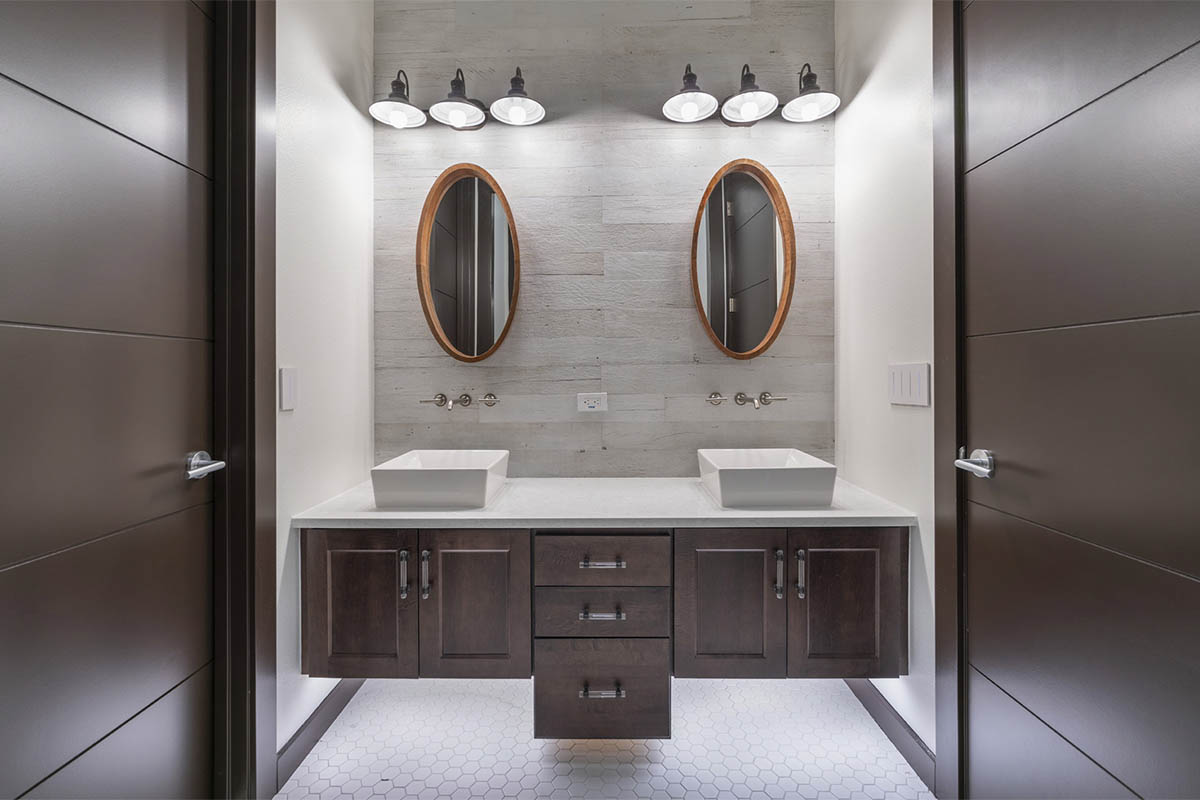 "T

oday the bathroom is n

o longer just a practical space for daily grooming. It's a therapeutic place of water and wellness with sensorial elements that nurture the body and mind. Accent lighting works to set the perfect mood making your bathroom a restful and stylish retreat. Here are our top three tips for enhancing your bathroom with accent lighting and the latest trends." —Jorge Ulibarri, Owner of Cornerstone Custom Construction. 
Understand The Four Functions of Light:
Lighting design breaks down into four categories of light sources: task, accent, ambient, and decorative.

Great lighting design achieves a balance of light by blending together these four different lighting functions to create space that is warm and inviting with a touch of drama.
Let's take a deeper dive into these four light sources to understand the role each plays in cohesive lighting design. 
Task—Lighting that illuminates a workspace such vanity illumination for putting on makeup and getting dressed. 

Accent—Lighting used to highlight objects in a space to add depth and dimension such as recessed adjustable fixtures, track lights, and portable uplights.

Decorative—Lighting that serves as the

architectural jewelry

or design focal point and includes chandeliers and wall sconces that add sparkle to a room.

Ambient—Lighting that provides a soft, gentle illumination in a room. It softens shadows on people's faces and fills the volume of the space with a warm glow. Ambient comes from sources such as opaque wall sconces, torchieres, pendant hung indirect fixtures, and cove lighting.
Illuminate the Latest Trends
When selecting your accent lighting, choose light sources that complement the latest bathroom style trends to refresh the space.   Bathroom design in 2020 embraces vintage, industrial, minimalist and transitional styles. Consider accent lighting that complements the following on-trend design elements:
Squared Fixtures—Square-shaped designs in faucets and fixtures give your bathroom a modern edge including square showerheads and geometric faucets with sleek 90-degree angles

 

Mixed Metal Finishes— Mixing bathroom fixtures and fittings adds visual interest instead of the tired old, matchy-matchy- look. Brushed Nickel, Satin Nickel and Polished Chrome finishes can pair with Rose Gold, Copper, and Matte Black for interesting color combinations.

Gold and Brass Finishes

—

Brass and Gold are back on-trend as timeless and inviting finishes for fittings and fixtures.

Minimalist Vanities

—

Minimalist styles remain popular in 2020 making a sleek, streamlined console a great choice to make the bathroom look cleaner, larger and more modern.

 
Accentuate the Positive with Lighting Placement
Accent lighting draws focus to certain elements in the room, so strategic placement is key to pull off the look. Here is how you can use several lighting sources in your bathroom as accent lighting. 
Linear Lighting is totally on-trend in the bathroom with stylish, minimalist designs including light strips, bar lights, or simple geometric styles. Install these linear light sources along mirrors, under vanities and along the ceiling edge to add a touch of drama.

Sconces are ideal accent lights to add ambiance and style. When hanging sconces in the bathroom, make sure they are  60 to 66 inches off the floor. Center the light fixtures off the faucets, equidistance apart. For a double vanity, a four-light fixture is ideal for spacing, proportion and illumination.  

Add uplights or spotlight in places such as on each side of the vanity mirror, or above the bath and don't forget either that the lighting tone can affect the feel of the room. Cooler lighting conveys a crisp modern look while warm lighting creates a  more relaxed ambiance.

Install

adjustable accent lights mounted on the cables to project light toward a focal point such as a piece of art or sculpture. Adjustable accent lights create dimension in the room and direct the eye around the room.  

Consider dimmable LED light sources such as vertically mounted lights inset into the wall above the vanity so they are flush with the mirror.  With dimmable LED light sources, you can set the color temperature from 5000 K (daylight) down to 2200 K (candlelight) for the ability to see well in daylight or nighttime settings and create a relaxing environment. 
Once you've accentuated the positive in your bathroom with accent lighting, don't forget to accessorize with plants, pictures, decorative objects even art to finish the look. For more design ideas and tips, subscribe to Jorge's youtube channel