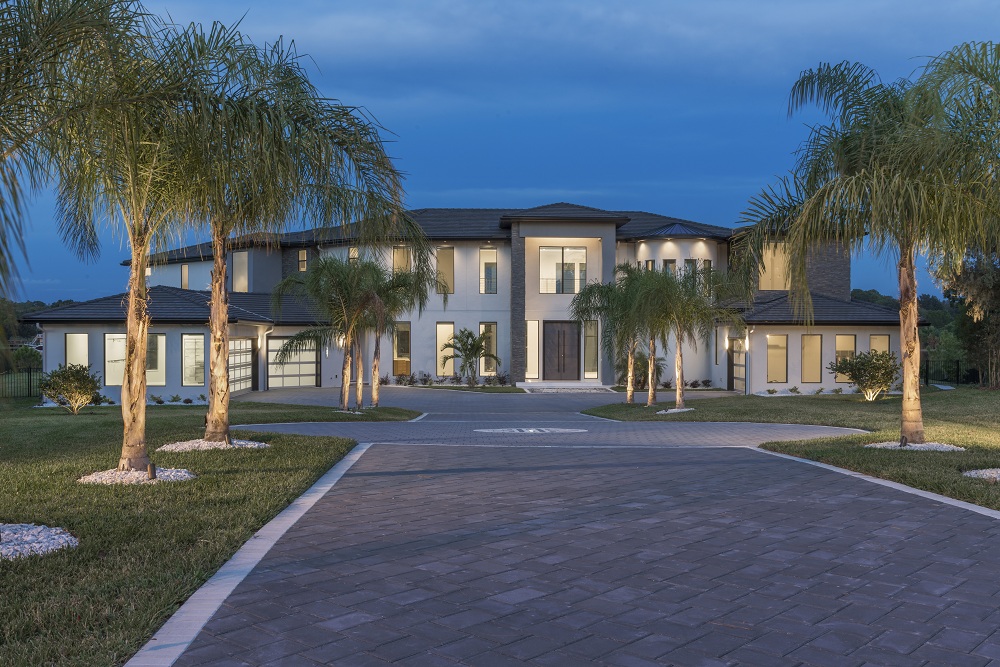 This Florida Modern Custom Home by Orlando Custom Homebuilder Jorge Ulibarri Features Sweeping Lake Views and Sleek Architectural Features
An inverted L shaped entrance, slim round tower and oversized windows give this 12,000-square-foot modern custom home stunning curb appeal. Situated on a peninsula on Lake Markham in the Seminole County community of Lake Markham Preserve, this Florida contemporary home is designed as two wings set at 45-degree angles embracing the lake views.
"The objective of the home's floorplan was to have a clear view of the lake throughout the house. We achieved this with large glass sliders throughout the back of the home that run from the master suite to the other side of the home for a 270-degree view of the lake," says Jorge Ulibarri, owner of Cornerstone Custom Construction. 
Check out the home's panoramic lake views in this flyover:

The home's facade features ledgestone accents that appear on the interior as a unifying architectural element and a custom-crafted flat paneled gray iron front door. Modern garage doors made of stainless steel with shatterproof glass insets house five cars.
A signature Florida contemporary style element is the home's black slate roof that appears flat but is actually slightly pitched to promote drainage. Other standout architectural features include mitered windows at the corners.
The color palette of gray tones extends to the interior with large 36″ by 18″ white porcelain floor tile with gray striations and walls painted in a soft white gray. 
The home has two custom-designed staircases on each wing with black, wrought iron linear railings and quartz steps edge-lit with LEDs.
In the large, open kitchen, an 18-foot wood grain laminate feature wall seamlessly integrates appliances in a T-formation.  Two kitchen islands are crafted in the contrasting countertop material, one with a wraparound white and gray quartz countertop that matches the backsplash. The second kitchen island has a white quartz surface.  
A 16-foot-long stone fireplace runs horizontally from wall-to-wall with a geometric design element crafted of white Venetian plaster that frames the electric firebox. Embedded LEDs light the fireplace feature wall from above.
 The interior styling of the home is modern but warm with a mix of wood elements and natural stone as seen in the bathrooms.
In the master bath, porcelain floor tile in a slate gray clads a feature wall fronting the freestanding tub and dual entry shower. Floating vanities and a dropped ceiling framed with wood contribute to the master bath's minimalist, zen-like ambiance.
The master suite has a gray wood plank flooring that sweeps up to create a feature wall.
For more design ideas, check out Orlando Custom Homebuilder Jorge Ulibarri's youtube channel.