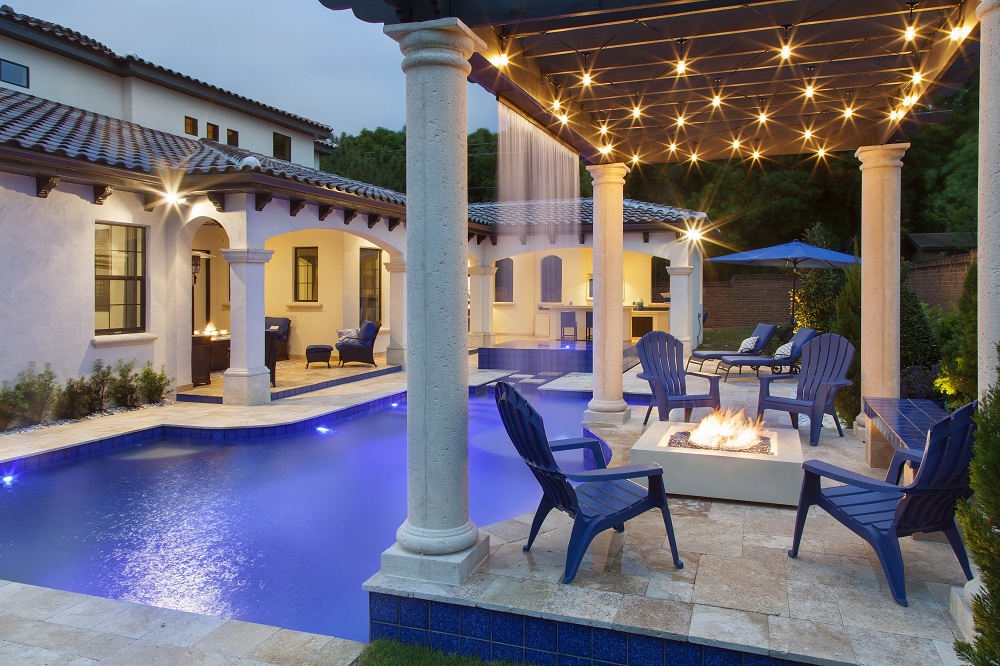 Orlando Custom Home Builder Jorge Ulibarri Shares Ideas for Contemporary Pool Design
For years, lagoon-style and mediterranean-style pools dominated outdoor styles in luxury homes but lately, mainstream taste is leaning towards more modern, sleek designs to coordinate with contemporary architecture.
These rectilinear resort-style pools bring a sophisticated, chic ambiance to outdoor living spaces captivating attention with understated water features, LED lighting and vanishing edge spas. In contemporary pool designs, curves are replaced with a combination of squares, rectangles and straight edges.
Orlando Custom Home Builder Jorge Ulibarri  recently designed a contemporary luxury pool for a new custom home under construction in a gated enclave of estate homes on Markham Woods Road in Lake Mary.
"The design challenge with contemporary luxury pools is to give the layout movement and depth without the use of curves, a more traditional feature.  I designed the pool in a configuration of squares and rectangles tieing the shapes together for a balanced, beautiful and functional layout," explains Ulibarri, who notes most lagoon- style pools rely on curves for flow and function.
Jorge designated different zones of the pool including a play area for kids, an entertaining area for adults and shallow water ledge for sunbathing. The kids play area is located in the center of the pool, spans 16 x 24 feet and is deep enough for children to jump in, splash around and swim. The sunbathing deck is submerged in shallow water on a ledge with pool lounge chairs. The pool's focal point is a modern-style pergola with a rain curtain centered on the back of the pool and visible from the foyer of the home through the great room. The spa entertainment area has a vanishing edge.
"Choosing the right finishes is key to pulling off an urban look.  Light-colored stone pool tiles, typical of lagoon and Old World style pools, don't  work with contemporary looks. I spent a lot of time searching for dark designer pool tiles and discovered the perfect option—a natural stone in black travertine for the pool coping and tied together with a 6 x 6 porcelain black graphite tile for the pool water line," explains Ulibarri, who designed the Lake Mary custom home with a rectilinear facade accented with stacked ledgestone accents.  
"I created contrast with light gray and black and glass mosaic tiles for a reflective element to define the shape of the pool emphasizing its silhouette," adds Ulibarri. The pool deck is made of concrete pavers in glacier field to give the appearance of split granite, creating contrast around the pool.  A border of black stone around the pool deck and the pool creates a dramatic outline. The pool integrates glass mosaic tiles in dark blue, light blue and platinum color on the spa and the pergola raised deck. The interior of the pool has pebble stones in a light gray to create more contrast between the dark border and the interior of the pool.  For more design ideas for Orlando Custom Homes, check out Jorge's video series, Trade Secrets for insider tips and useful information about luxury home construction.