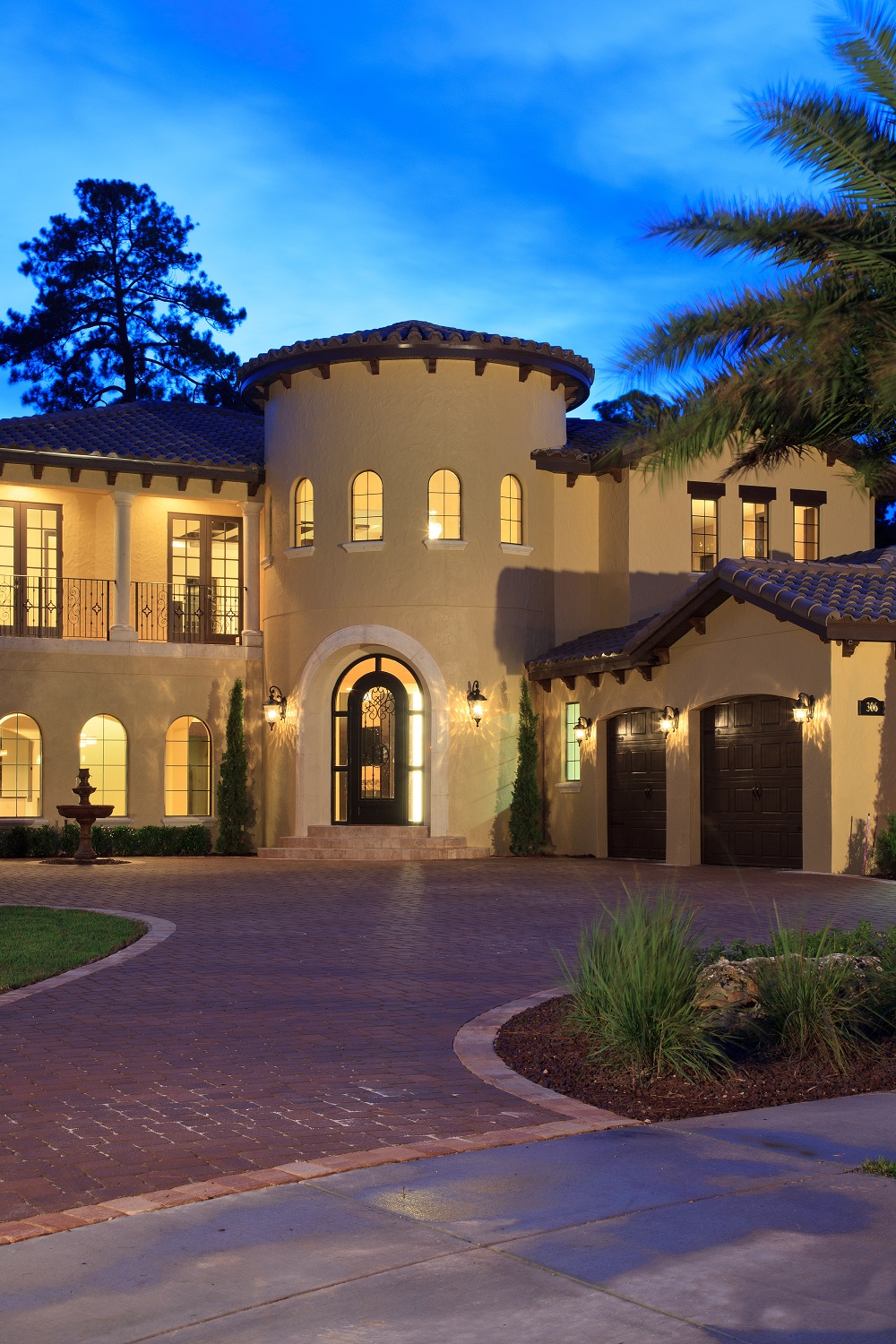 Tour this Mission-Modern Home by Orlando Custom Home Builder Jorge Ulibarri
A custom home that is both timeless yet stylistically relevant requires a balance between enduring architecture and the latest home interior looks. One of the latest custom homes by Orlando Custom Home Builder Jorge Ulibarri is a fusion of Spanish-Mission and Contemporary architectural elements to create a unique Florida style known as Mission-Mod. 
Villa Sirena is  a 4,600 square foot home  located in Heathrow Country Club, a gated community just north of downtown Orlando that sits on a private cul-de-sac. Interior design was done by Decorator Karen LeBlanc.
Distinguishing architectural features include arched windows with pre cast stone surrounds, gable roofs, a round tower entrance, red clay tile roof and white washed stucco and the tower entrance, a signature feature in many of Jorge Ulibarri's custom homes. Upon entering through the two-story foyer tower, the view extends through the home out to the resort-style pool and outdoor living spaces, infusing natural light throughout the main floor. 
The kitchen blends rustic and contemporary design elements including the travertine-tiled barrel ceilings with sleek beams. Painted white brick accents including the range reference the Spanish-Mission style contrasted with modern tile that has metal inserts on the backsplash.  Flat panel espresso wood cabinets mix with and a creamy white kitchen island base. 
The home has five bedrooms, four and a half bathrooms, a media room, an office, and a grand room.  The home's open floor plan combines the great room, kitchen and dining room into an expansive living and entertaining space. The house does not have a breakfast nook instead a double island serves as the casual dining area to accommodate six people. There is a formal dining room and a great room replaces the formal living room. A three-car garage is in the back of the home so as not to distract from curb appeal.
"We've eliminated most of the formal areas and we've enlarged all of the functional areas," says Orlando Custom Home Builder Jorge Ulibarri, acknowledging the latest living space trends call for less formal spaces and more casual, multipurpose rooms. 
The family room's interior decor creates a zen-like ambiance in a color palette of blues, whites and grays with white leather couches, pops indigo blue throw pillows and doses of texture with faux fur pillows and the shag run.
"The prevailing tastes in new homes are changing to more modern, contemporary styles, although I still have many clients who prefer more of a traditional house with rustic finishes.  This house sits right in the middle of the two styles with both modern finishes and rustic finishes. It's more of a Florida contemporary home. You don't have that extreme contemporary look with floor-to-ceiling walls of glass and  flat roofs typically associated with West Coast contemporary architectural styles. Our Florida version is more friendly with the type of hot and humid climate endemic to this region," explains Ulibarri.
For the wine cellar Ulibarri designed a display wall of white Carrera marble trimmed in espresso wood to showcase modern wine bottle holders . The white brick feature wall that fronts the wine tasting bar and a rustic chandelier with the Edison bulbs gives the space a patina. 
The master bathroom exudes the natural warmth of wood with tile that mimics woodgrain and with natural wood ceilings and transitional styled cabinets and white quartz countertops tops. All of the plumbing fixtures are modern, streamlined geometric shapes.
The home has three main outdoor living spaces—the outdoor kitchen, the outdoor dining room and the outdoor living room, all wrapping around this beautiful resort style pool.
The rain curtain water feature creates an oasis, spa-like experience ambiance enhancing the whole resort experience outside.  The pool's sundeck in shallow water hosts two ledge loungers, sculptural blue contoured chaises for sunbathing or relaxing.
For more ideas and information on Orlando Custom Homes by Jorge Ulibarri, contact him at 407-733-5500 or email: cornerstonecustom@cfl.rr.com