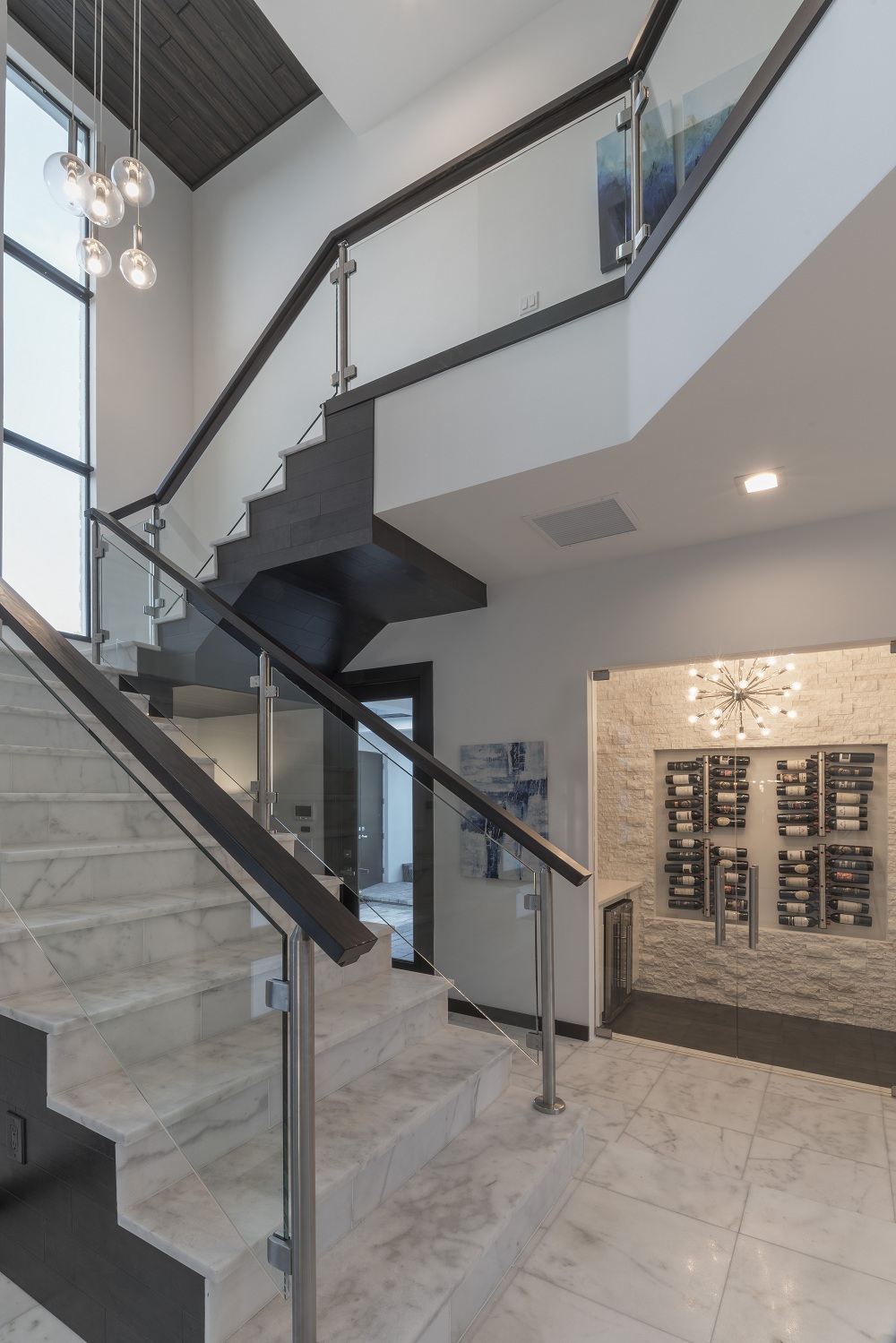 Staircase Design Ideas from Orlando Custom Home Builder Jorge Ulibarri:
Today's floorplans showcase the staircase as the focal point of  the room serving as functional sculpture. No longer relegated to the back of the home as uninspired utilitarian features, the latest staircase designs merge art and engineering to defy the limits of the standard banister and baluster system. Orlando Custom Home Builder Jorge Ulibarri designs the staircase in each of his custom homes as an attention-getting architectural feature and shares a few ideas to inspire your own stairway style:
Transparent railings:
Acrylic or glass rail stair systems create a contemporary, clean silhouette drawing focus to the stair risers and treads. This staircase has no hand rails, opting instead to encase the steps behind a tempered glass wall for safety and visual effect.
See-through stair railing systems can draw focus to feature walls such as this one crafted of stacked stone and the floating wood steps. "Stair feature walls crafted of wood, stone, tile or decorated with art add visual drama and replace the outdated accent wall painted a different color that was once popular in main living spaces," says Ulibarri, who is building a contemporary home with a white stacked stone stair feature wall and glass railing system.
Cable Railing Systems:
Metal railing systems with horizontal or vertical cables, crossbars, mesh or perforated metal in aluminum, brass, iron, steel or stainless steel go great with contemporary and industrial-styled interiors.  Metal designs come in a variety of finishes— polished, brushed, satin or powder coated and with fasteners and fittings in interesting shapes. Mix materials by adding handrails of wood or plastic.
Floating Stairs:
Stairs that appear suspended without supporting structures below are popular designs because they work well with traditional styles and contemporary styles.
Under the Stairs Wine Storage:
Jorge Ulibarri suggests making the most of under-stair space with creative storage features such as a wine cellar. "Typically, the space under the stairs is large and deep enough to build a walk-in wine storage room with refrigeration and a tasting bar. Under the stairs wine storage is one of the most in-demand features in my homes, " says Ulibarri, who is building a contemporary home with under-stair wine storage crafted of glass doors with display lighting.
For more design ideas and inspiration, subscribe to Orlando Custom Home Builder Jorge Ulibarri's video series, Trade Secrets.